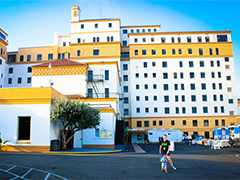 Operators of a former hospital campus known as the Dream Center expect to receive a $49.7 million federal grant to add more housing to their charitable operations in Echo Park.

The expansion marks a major milestone for the charity, which purchased the property formerly known as Queen of Angels Hospital for $3.9 million in 1996 and has worked since then to build a facility to help impoverished families, troubled youths and victimized women, some of whom might otherwise land in the penal system.

"It feels like we're finally done," Executive Director Matthew Barnett said.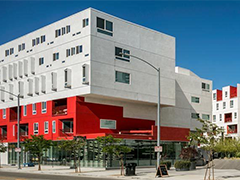 Construction will begin this month on One Santa Fe, a long-anticipated $160-million apartment, office and retail development in the arts district of downtown Los Angeles.

Plans by Los Angeles architect Michael Maltzan call for 438 apartments and 78,620 square feet of office and retail space, along with nearly 50,000 square feet of public outdoor space. When completed in 2014, it is to have an outdoor terrace, a grocery store, art gallery, a theater and a garden.

Twenty percent of the units will be priced for low-income renters.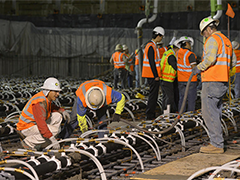 The US Treasury Department's Community Development Financial Institutions Fund has awarded the LADF $50 million in New Markets Tax Credit (NMTC) allocation. In total, LADF has been awarded $175 million in NMTCs since the program's first allocation in 2008 to stimulate economic development through investment capital for low-income communities.

"We are thrilled to be a recipient of $50 million in NMTCs", said Rushmore Cervantes, President of LADF. "This reflects the catalytic economic investment that's needed in our City and speaks to the impact of LADF's prior NTMC investments, spurring development and creating much needed, good paying jobs. LADF will allocate these tax credits in projects that will have the greatest impact on the local economy and create the highest number of quality permanent jobs."

© 2019 Los Angeles Development Fund