On a crisp October day, second year college students in the Department of Landscape Architecture at Cal Poly Pomona gathered excitedly to present their midterm projects to a panel of jurors, including Heart of LA (HOLA) CEO Tony Brown and Founder Mitch Moore. The studio walls were covered with 74 landscape renderings of an entryway sequence for HOLA's iconic new Arts and Recreation Center, located in Lafayette Park.

"When I walked in and the walls were filled of HOLA renderings, it was overwhelming like a wave washed over me." Mitch recalled, "I was really blown away. It was more than a class...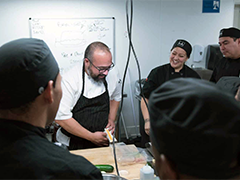 Not many people would think of going to a kitchen to heal, but one man's amazing mission has turned cooking and serving others into a tried-and-true therapy. Visionary Robert Egger founded LA Kitchen in 2015 with a simple, yet challenging and powerful goal: neither food nor people should ever go to waste.

This 20,000-square-foot facility just north of downtown Los Angeles accomplishes that mission and then some. From turning reclaimed food into meals for social service agencies to running a for-profit business, which uses "imperfect" food to make healthy products for sale, this bustling operation is transforming the
The Los Angeles Development Fund (LADF) is pleased to announce that it is the proud recipient of an additional $50 million in New Market Tax Credit (NMTC) allocation issued by the US Treasury Department. In total, LADF has now received $225 million in NMTCs that directly impacts the lives of Angelenos, providing a tremendous boost to the local economy and aiding in the revitalization of low income neighborhoods.

"During this critical time of affordable housing shortage and overall economic struggles for so many Los Angeles residents, we're absolutely thrilled at this latest injection of NMTCs," said Rushmore Cervantes,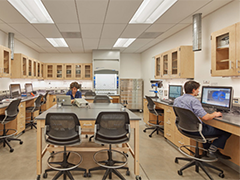 At the
Los Angeles Cleantech Incubator
(LACI), participating members get a lot of bang for their buck. Originally started in 2011, the outfit moved in 2016 into a 60,000-square-foot complex, known as the
La Kretz Innovation Campus
and owned by the Los Angeles Department of Water and Power. The campus is one of the inaugural public amenities of a new Cleantech Corridor planned by the City of Los Angeles for a vast area stretching from the Lincoln Heights neighborhood, in East LA, to the Arts District, downtown.
The complex is made up of an adaptively reused and seismically retrofitted historic warehouse, among other components, designed by John Friedman Alice Kimm Architects.
© 2020 Los Angeles Development Fund