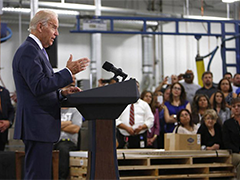 US Vice President Joe Biden on Wednesday visited
Bobrick Washroom Equipment Inc
, a manufacturing firm headquartered in North Hollywood, in what his staff said was an effort to promote the importance of middle-class jobs and to boost the nationwide campaign to raise the minimum wage.
Prior to holding a news conference, Vice President Biden toured the Bobrick plant with City of Los Angeles Mayor Eric Garcetti and Los Angeles County Supervisor Sheila Kuehl. The visit came a day after L. County approved a plan to gradually raise the minimum wage in unincorporated areas of the county to $15, mirroring legislation passed in May by the LA City Council.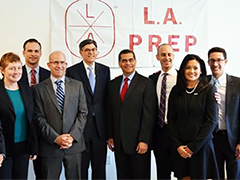 Last month, to mark National Small Business Week, Congressman Xavier Becerra (D-CA), Chairman of the House Democratic Caucus, joined Treasury Secretary Jack Lew at the NMTC-financed LA Prep in Lincoln Heights.
The
LA Prep project
involved the acquisition and renovation of 56,000 square foot former warehouse into an incubator for small food producers who have outgrown their startup spaces. The project moved forward thanks in part to $16 million in NMTC allocation from Los Angeles Development Fund and UrbanAmerica.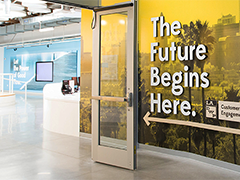 The Arts District has yet another beautiful new destination. A brick building that could be a housing complex, restaurant or even a museum except for the one key detail that betrays its intentions: a large parking lot shaded by a huge grove of solar panels.
The
La Kretz Innovation Campus
, which began low-key operations about three months ago, is the newest home of the Los Angeles Cleantech Incubator (LACI), which had been operating in a small temporary space a few blocks away since 2013. La Kretz is one of the few incubator hubs in the country dedicated to developing cutting-edge clean technology businesses, said LACI President and CEO Fred Walti.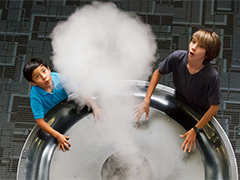 Things are shaping up rapidly and within budget at Discovery Cube Los Angeles, the San Fernando Valley's newest and biggest museum. It's scheduled to open Nov 13, 2014.
Discovery Cube Los Angeles
is the new science-oriented facility under construction in Sylmar's Hansen Dam Recreational Center. The $22.4 million project is organized by the Orange County-based Discovery Science Foundation – the folks behind the successful, 25-year-old Discovery Cube Orange County, formerly the Discovery Science Center. You know, the interactive, kid-friendly museum in Santa Ana that features the big black cube visible from the I-5.
© 2020 Los Angeles Development Fund